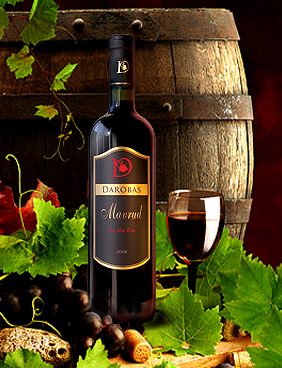 Darobas Winery
Good wine comes from good grapes and good grapes grow in the ancient land of the Thracian King Sitalces, imbibing the warmth of its mineral springs and the unique aroma of thе Valley of Roses, the softness of the wind and the generous sunshine of the hilly regions of the lower Sredna gora mountain.

Hand-picked, fully ripened and fresh, after careful processing the good grapes turn into a delicious grape nectar - the precious raw material from which experienced specialists, combining traditional technology with contemporary tendencies in the slow process of fermentation, by delicately modeling the nuances, create wines with a fine, elegant taste and a tender bouquet with dominating fruity and floral tinges, which characterize the brand of Darobas.

The aim of the oenologists to present and emphanize on the unique terroir of this mystic region is supported by a modern and fully equipped laboratory, helping them to search for the right balance and to unveil the secrets of good wine.

Already settled, the wines mature in oak barriques, where they absorb the sweetish, smoky note of the oak fragrance and acquire their unique presence.
The state-of-the-art French equipment allows them to unfold further their potential character after bottling.

The genesis of Darobas wines unquestionably predestinies them to act as the good spirit which, when let out of the bottle - at lunch or dinner, at the everyday table or at festivities, in every season, will invariably ensure a pleasant mood, cozy atmosphere and delight for you, your relatives and friends.

Darobas Winery has its first harvest in 2005 / 2006 from its own plantations, cultivated by certified elite vines of well-known French, Italian and Spanish nurseries. They include a wide range of classic European and local varieties but as an accent and some aristocratic and exotic ones.

This meets the primary objective of the company FIAL, as a small wine producer, to offer his many admirers a large collection of premium boutique wines at affordable price. Moreover, the wines are natural products produced in an ecological area with minimum use of well-selected agents.

We hope that the result shall contribute to the recently developing tendency of returning the high prestige of Bulgarian vines and wines in the world scene. We believe that the good wine is a mark of high culture and civilization. This is a great challenge but our ambitions are supported by the considerable experience of our enthusiastic and dedicated team.